If you want to look your best, it's important to be savvy about where you shop. You need to pay special attention to the styles you find from the lines you love, and it's always a plus to find a seller that offers your favorite brands in a multitude of offerings. We understand that well here at Four Seasons Direct, which is precisely the reason we offer so many of your favorite brands and designer's looks right here on our website.
It's also the reason that we keep our catalog fresh with new additions. We're constantly adding new styles and pieces to our inventory, which means that shopping through our site is always likely to yield a special surprise or two. You never know what you'll find when you come to Four Seasons Direct for your next treat.
One thing is certain, however. Here at Four Seasons Direct, we will always offer you some of the most classic and inspiring styles from the brands and designers you've grown to love. While you might be surprised now and again by a new addition, we'll always have some of your favorite brands in store. Here's a look at some of our favorites.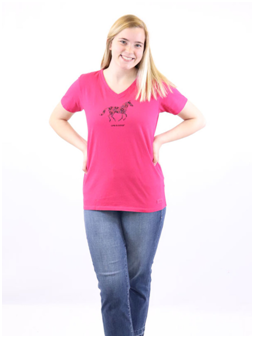 Life Is Good
If you're looking for Life Is Good shirts in women's sizes and in designs for ladies, then you just so happen to be in exactly the right place. Life Is Good certainly maintains one of the best images of designers today, and it's largely due to their self-evident philosophy - that Life Is Good.
Life Is Good has its roots in a real-life success story against all odds. Founding brothers Bert and John Jacobs experienced poor sales for years, running nearly to the point of insolvency before their creative muse revealed herself.
Nearly devoid of liquid resources, the Jacobs Brothers stumbled upon the simple truth that suffuses each and every article they produce - the truth that Life Is Good. They realized that they - like all of us - must make a choice every day, sometimes multiple times per day. We either choose to focus on the things that take the spirit away or we focus on those that restore our spirit. As they say themselves, optimism is not irrational, and it doesn't mean being in denial about the challenges that life presents. Life certainly does present challenges and adversity, but with them come opportunities as well. It just is a perspective that stresses that with each challenge presented there is an opportunity to triumph, and in that perspective, there is perseverance and strength.
Optimism colors everything they produce and everything they do, and that bold spirit saved them from the brink of a failed endeavor. Yet they chose to see the good around them despite the challenges and that lifted their business to success. Not only that, but optimism increases the quality of life instead of diminishing it. It's a positive feedback loop whereby all parties benefit.
It's not just the fact that Life Is Good promotes a healthy, positive outlook on the world. It happens to do so in its mission and through its lines of clothing, which are readily recognizable in their playful, simple colorful styles and original, creative designs and patterns. Right here you can find Life Is Good shirts in women's sizes from small all the way up through 3XL in the colors you want - and with a design to celebrate just about any passion. Life Is Good is well known for their creative designs, and whether your passion is the outdoors, your love of animals, arts and crafting or something else, we have Life Is Good shirts that you'll love.
Part of what makes us unique here at Four Seasons Direct is our commitment to offering a diverse portfolio of clothing, and Life Is Good shirts in women's designs are only the beginning. Take a look through some of our other favorite brands below.
HoneyMe
Everyone just loves the simplicity and power behind the message of the Life Is Good brand, but that's only a small portion of what we offer here on our site. Another equally inventive and creative name that we are proud to feature on our pages is HoneyMe.
As Life Is Good is committed to spreading the power of optimism, HoneyMe offers a special value to its customers too. That message is that fashion is central to the image and identity of the individual, and as such, they are dedicated to creating original, peerless designs and in a range of sizes to outfit any lifestyle.
A simple description of this commitment of HoneyMe's designers to celebrating the individual would be entirely insufficient to communicate their steadfastness to such principles and their creativity in their designs. It takes only a small introduction to HoneyMe's designs to get an understanding of their originality and their innovative, inspired creations.
When you need to find a designer that can set you up with uniquely inspired tops and cardigans, HoneyMe is just one of the names that come first to mind. You'll find simple tops with unassuming patterns well represented among our catalog of their offerings which means you can be comfortable in any season or setting in their designs, but there's much more to HoneyMe than these simple designs.
HoneyMe is the designer to which you turn when you need novel, floral and natural patterns in your tops that are brightly and interestingly colored. In a collection of their offerings, you'd be just as likely to find a sleeveless top with sharp, bright, earth tones reminiscent of the sun over water as you'd be to find a flowing, ruffled top smartly arrayed in a classic floral design.
Right here on our site, you can find a wealth of designs by HoneyMe to add some color and inspiration to your life. Check what we have in store and don't forget to stop back soon because you never know what you'll find waiting for you here at Four Seasons Direct.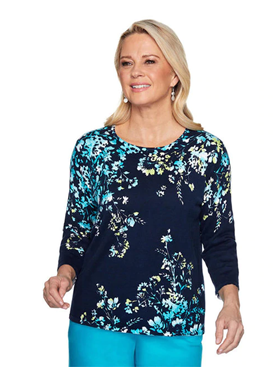 Alfred Dunner
Alfred Dunner is one of those designers you can turn to for classic styles and an old-world approach to business and design. They offer a full selection of high-quality garments, that not only offer the wearer excellent construction but interesting, if somewhat demure, designs. They themselves claim to lay heart and soul at the center business, design, and inspiration, and one thing at least is certain. There is plenty of heart, and no shortage of soul, in the designs by Alfred Dunner you will find right here on our site.
Our collection of Alfred Dunner is clothing is replete with original designs in tops and bottoms to complete any wardrobe. In many of their designs, you will find classic, timeless designs that were clearly inspired by the native class of lace patterns and the universal allure of a natural floral pattern or color palette. In many cases, you will find their designs colored by adherence to a little bit of both schools.
Whatever your tastes in clothing, you'll find something by Alfred Dunner to compliment your sense of style. That's the beauty of simple, timeless designs with classic motifs. It doesn't serve a niche market and can be very widely appreciated. Take a look at our collection of Alfred Dunner designs today to see what we mean - you might just leave with something special.
Ruby Rd
How could a selection of our favorite brands be complete without an introduction to Ruby Rd? Our catalog just wouldn't be complete without our collection of Ruby Rd designs, and we're the better for it.
Ruby Rd is visionary for its broad collection of designs and styles, but there are a few constants that typify their vision of fashion. They represent the woman who appreciates bright colors and patterns as the mainstay of the outfit. Bright colors and interesting patterns are exactly what you will come across when you look through a collection of Ruby Rd clothing, and that's just what you'll find in ours.
Their own collection is subdivided by such colorful names as "Rose All Day," "Sea and Sand" and "Bright Idea," so you can get an impression of the types of styles you will find that bear the name Ruby Rd. If you're looking for a simple, functional, denim jacket, you'll find that on our site, but right alongside it, you'll come across bright stripes, patterns and floral prints that can keep your wardrobe fresh and original all year long.
Many of their designs are so intricate that they are best taken as a whole rather than interpreted for the smaller units of their composition. In short, they are beautiful interminglings of many different elements that are interesting for their harmony. Check out our collection of Ruby Rd clothing before you leave, even if you came for Life Is Good shirts in women's small - we have Ruby Rd in your size too.
Tribal Pants
Sometimes you need to pair your favorite top with a pair of pants that, while fashionable and fitting, doesn't steal the thunder away from your carefully selected shirt. For those occasions, it just seems like you can't go wrong with a pair of Tribal Pants.
While you might have been expecting wild and lurid designs, Tribal Pants are an absolute paragon of propriety in a very accommodating range of fabrics and cuts. Whether you are looking for shorts, capris or full-length pants in a blue denim finish or khaki pants, you can find that look with a carefully chosen pair of Tribal Pants.
They look great without overbearing and are widely compatible with so many different types of tops that you could match a single pair to great effect across a spectrum of outfits. Take a look at our page of Tribal Pants to see what yourself. We're confident you'll see what we mean.
Vera Bradley
Vera Bradley may need no introduction because those designs are simply beloved for their color and for their pioneering spirit. Even where the pattern or color scheme of a Vera Bradley bag can't be said to match an outfit, the original designs will make their own way. Sometimes you carry a Vera Bradley bag for its own look and not for the ability to match it. It might even be seen as a compliment that they sometimes refuse to match but are immediately recognizable.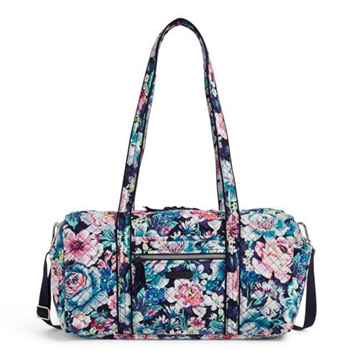 Whether for fashion or just for the simple fact that you need a bag to carry your daily necessities, we offer accessories like those from Vera Bradley that you can use to stay prepared and stay looking your sharpest. Take a look through our collection where you will find not only Vera Bradley accessories but other favorites like Baggallini as well as shoes, jewelry and more.
Hard To Find Sizes
There's something else you should always keep in mind about us here at Four Seasons Direct. Yes, we offer designs from these favorite brands and many more, but what we can also offer you is that very same catalog in hard to find sizes.
While you may have found it challenging to find clothing in petite or other hard to find sizes or even to find clothing to accentuate your natural flair, you'll have no such problems with what we offer you here. We specialize in offering those sizes that are becoming hard to find and pride ourselves on our broad collection of clothing and accessories to support plenty of lifestyles and looks.
Constant Additions and Fresh Styles
Don't forget while you're here - Four Season's Direct is always making additions to our lineup. That means that while you can expect to find favorites from Life Is Good and Alfred Dunner just about any time you visit, you might be surprised by a new addition that you didn't find on your last trip. That's because we're always looking for new styles and refreshing our inventory with interesting new pieces.
Feel free to check back here on our website as often as you like because you just never know what you'll find. Before you go, check out our Facebook page, where you'll get news, access to event information, special offers and more!