Is there anything better than pulling on your favorite shirt, dress, or pants in the morning and seeing the whole outfit come together perfectly in the mirror? How about doing it every day! As fashion fanatics, we've always worked hard to ensure every woman has a full wardrobe of clothes that make her feel amazing every time she gets dressed. It's humbling to know we've helped hundreds of petite women love their wardrobes again, and we could never have done it without the amazing petite ladies clothing brands we've fallen in love with from our collection. So today, we're taking a moment to showcase all the brands that hit our biggest key points and help us transform the way petite ladies think and feel about their clothes.
Before we dive into our favorites, let's talk about what it is we're all looking for in petite clothing. If you've been shopping for petite clothing for a while then you've no doubt noticed the downsizing trend among big department stores and even your favorite mall shops. These days finding stylish and varied petite ladies clothing sections in person is almost as hard as finding a four-leafed clover. At Four Seasons Direct, we believe that it should never have to be a matter of sheer luck to find a well-fitting blouse, skirt, or pair of jeans. Every woman is an individual who deserves clothing that speaks to her and suits her lifestyle. That's why our highest priorities when picking and choosing which brands will make the cut are fashion and flexibility. We want stylish, modern looks that suit more than just one kind of woman because we care about women from all different walks of life. Our favorite brands are a healthy mix of mature, fun, sophisticated, and casual styles, with a little bit of beauty waiting for everyone!
Part of the reason so many petite sections have dwindled down and faded out over the years is that they couldn't keep up. Go back to the larger petite sections of ten years ago and you'll see how limited they were even with more display space. While the standard clothing sections for women over 5'4 were diverse and filled with plenty of options for different personal styles, petite sections were still locked in a singular, outdated businesswoman's style that had been most popular more than a decade before. Sound familiar? If you're lucky enough to have a Petites section in your favorite local store, chances are you've seen this fashion drought up close and personal, as it's still going on even today.
As true lovers of women's fashion, we can't stand the thought of offering such meager pickings. So we've scoured the fashion world for current trends and styles in every size, and we've found a number of brands we know we can always rely on. It's thanks to labels like Cathy Daniels/Jump Apparel, Emaline, Alfred Dunner, Erin London, Ruby Rd, and Sportelle/On Que that we are able to provide a truly diverse and wonderfully stylish modern collection for all our petite customers. So without further ado, let's take a look at what makes each and every one of these marvelous brands shine in the Four Seasons Direct collection!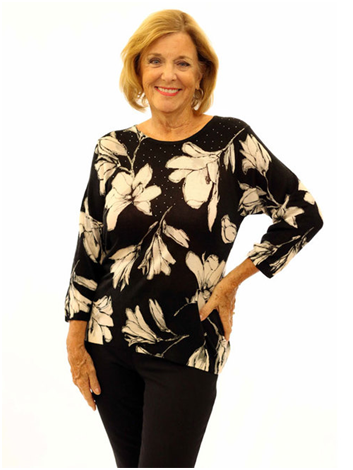 First up is the Cathy Daniels/Jump Apparel collection, perfect for mature women with a good sense of humor. The beautiful sweaters, blouses, skirts, and capris this label brings always light up the room with a sense of warmth and comfort. We find the soft colors of Cathy Daniels/Jump Apparel tops, blouses, and sweaters perfectly compliment women with kind hearts and a nurturing nature. Whether she be a loving grandmother, a proud member of the PTA, or a dedicated nurse, any giving woman will find the perfect match in these designs.
In a few words, we'd describe this brand's style as lighthearted and inviting. The muted yet welcoming colors add a softness to your outfit, creating an approachable and casual aura. The label favors mature, organic prints that are well suited to both a semi-formal business setting and a more informal get together, such as the family Christmas party. For those lovely ladies who are always putting thought into even their most relaxed outfits, the Cathy Daniels/Jump Apparel line makes a wonderful put-together look for more casual events and gatherings.
When it's time for something a little more formal and elegant, our go-to brand is Emaline, the next in our favorite's list for today. Emaline offers bolder, richer color palates and a whole host of sophisticated feminine styles. Each Emaline blouse and top features a bold and beautiful print that makes for a stunning standalone look, while also layering elegantly under a formal blazer or cardigan. So you can easily go from a busy workday at the office to a lovely one on one dinner date with the love of your life, simply by shedding your jacket! In today's busy world, there's nothing better than style efficiency like this!
The Emaline petite ladies clothing collection is ideal for sophisticated women who want to add some refinement to their wardrobe. The colors and patterns of each seasonal collection are designed to suit one another, so a busy working woman can quickly find everything she needs to build an outfit in one quick browse through the Emaline collection. Plus, each style is built with versatility, so you can curate multiple outfits out of the same handful of pieces. In other words, the Emaline brand is a busy woman's best friend.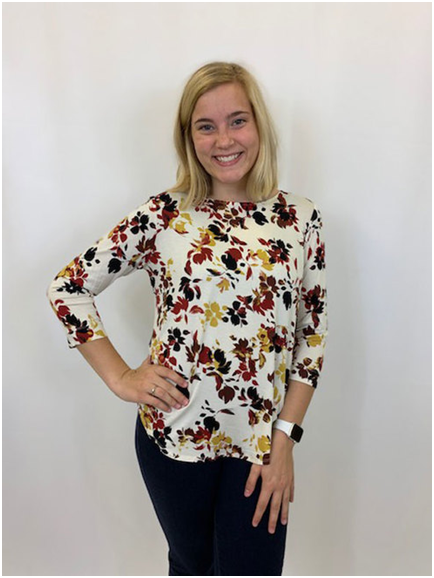 Whether you're browsing online or in person, you'll quickly find yourself admiring another of our favorite labels: Alfred Dunner. As one of our biggest collections, it's no surprise that our Alfred Dunner pieces capture the hearts of many of our customers. It's certainly not a matter of quantity over quality, though! As a family company built around their loyalty to the fine ladies who wear their clothing, Alfred Dunner is highly dedicated to the quality of their garments. That's a passion we share in common, and it's why we've collected so many Alfred Dunner pieces.
That, and the fact that Alfred Dunner garments offer something that's been terribly lacking in the petite fashion world of bigger department stores: personality. Each Alfred Dunner top has an energy all its own, with beautiful, heartfelt graphic prints ranging anywhere from warm autumn botanicals to bright paisley trims under solid color sweaters. Animal print, zig-zag stripes, embroidery patterns, and even scenic prints adorn the wonderfully comfortable and perfectly sized tees, sweaters, and blouses you'll find in the Four Seasons Direct collection. Women who want to express themselves through their clothing will love finding themselves in these stunning tops.
And after all, isn't that the whole point of fashion? To look as good on the outside as you feel on the inside? We certainly think so, and we're not alone! Erin London knows as well as we do how much easier feeling confident can be when you have the comfortable, stylish clothes to do it in. For any woman who's found herself feeling her best whenever she looks her best, Erin London is the confidence boost she's been waiting for!
Paying special attention to comfort and fit, Erin London is a label devoted to wearability as well as beauty. Silky, professional tank tops, soft and flowing tunics for any setting, and cozy cowl neck sweaters are all flexible staples of this feel-good label, and perfect for any occasion. Browse through this seasons' latest additions to find beautiful, soft colors and festive plaid prints that will inspire your best work and build your confidence!
Meanwhile, the most daring gals among us find their confidence in the unique stylings of the Ruby Rd clothing line, where bold and sophisticated are the name of the game. Ruby Rd is a well-known department store brand that works in strong colors and unique styles, creating lovely statement pieces that stand out from the crowd. For any trendsetter or confident fashionista, this is an absolute must-have label for every wardrobe! And here at Four Seasons Direct, you can find it all in petite sizing!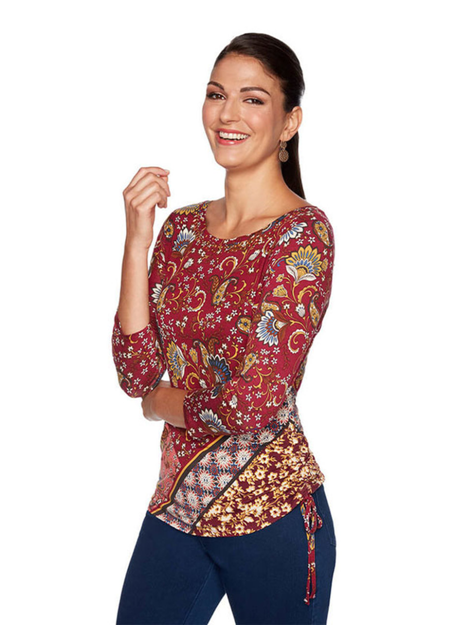 From fitted tops to summer dresses, Ruby Rd offers beautiful, feminine styles that are as bold as they are fun to wear. Strut your stuff in stunning fitted blouses with bold and unique prints, such as embellished patchworks and reimagined bohemian florals. Or show off your playful side with flirty criss-cross necklines and flared open elbow sleeves. With the help of Ruby Rd you can take your stylish wardrobe up to the next level and show the world who you really are!
Last but certainly not least on our list of petite favorites comes Sportelle/On Que. This brand is perfect for the casual petite woman, as it focuses on well-fitting yet relaxed and casual cuts. Every petite woman has surely faced the struggle of overlong sleeves on otherwise perfectly sized shirts, and comfortable, well-fitting jeans whose hems are just a few inches too long. It's heartbreaking and frustrating to deal with, but thanks to Sportelle/On Que, the oversized hem horror can finally end! With ¾ and elbow sleeves building up the main foundation of this stylish collection, you will never have to worry about tailoring your hems again!
In terms of style, the Sportelle/On Que collection is a charming combination sensibility and chic style. Comfortable elbow sleeve tunics are made office ready with stylish curving patterns and rich colors. Meanwhile, standard ¾ sleeve tees are given a new twist with delightful textures and interlocking patterns to direct the eye all across the garment. The fabrics are extra soft and comfortable, feeling casual and calm while still maintaining a versatile style that can be worn anywhere. Petite ladies who have a carefree way of enjoying their day to day lives adore the Sportelle/On Que brand, and we're certain you will too!
These six fantastic brands cover all the bases, from formal office wear to flirty date night attire to casual Sunday garb, and all of it made just for we Petites! And while these six are the top of our list when it comes to petite brands, they aren't the only stunning styles you'll find here at Four Seasons Direct! Our collection encompasses many different labels and includes everything you could ever want, whether they be blazers and pencil skirts or winter jackets and fitted jeans. Petite women looking to curate an entirely new wardrobe and those on the hunt for a specific few pieces are sure to find their heart's desire among our carefully gathered collection.
To ensure this, we've worked hard to maintain a vast and inclusive range of sizes and cuts suited to all body types. Here you will find all petite ladies sizes, from size 4P to size PXL, along with all the short sizes for a genuine fit. But there's more to finding the right style to suit your body than simply matching a size number. The neckline, sleeve length, hemline, and fit of your clothes each play just as important a role in making you look your very best. And because each body is different, every woman will have her own preference for what cuts to wear and which elements she wants to emphasize. We make sure to gather a healthy variety of all necklines and garment shapes to ensure that no matter what your go-to style is, it'll be right here, ready and waiting.
You'll certainly see that dedicated variety in our seasonal fashion shows when we showcase all the latest trends in both the fashion world and our store floor. Each of these in-store events is a perfect way to come and see the best of the petite ladies clothing brands working together live in a fully composed outfit. You're sure to see a few brands you'll recognize now!
For more details on our upcoming fashion shows, and to stay in the know as we continuously update our collection, follow our Facebook page at FourSeasonsDirect. We hope to see you soon!