Shopping for women's petite clothing sure can present quite a few unique difficulties. Of course, you want to find styles that you appreciate from designers you've come to trust. Naturally, you want to look your best in that style you find as well, which can be tough when you might need to try on a whole bunch of different outfits to find one that sticks.
Sometimes the need to try on a whole bunch of different outfits is hindered by the fact that it can be tough to find the styles and looks you appreciate in the first place. It can seem frustrating trying on a whole bunch of different pieces only to find that the ones you liked the most don't fit as you'd like or were a size or two off the mark.
That isn't helped by the fact that it seems to be getting tougher to find women's petite clothing in the first place. For one reason or another, you can expect it to get tougher to find styles of petite clothing that fit nicely and look great, but there's a little bit of good news in this. We here at Four Seasons Direct are committed to bringing you lovely styles in your size that you'll just love, as we have done since we started 57 years ago.
To that end, if you're shopping petite sizes, here are some things to look out for while you're doing so. You'll be pleased to find that we've committed to making it easy for you to capitalize on these tips you'll want to follow when you're looking for petite clothing for women.
Find Clothing That Can Accentuate Your Height
Some petite shoppers are looking for clothing that can take advantage of their proportions to make them appear taller without drawing excessive attention to any one portion of their dress. For example, you might not want to wear shoes that are far too tall or blocky because it actually can draw attention to the portion of your dress that accents your height.
Instead of adding height, you can alter the style to give the appearance of height. If that is a concern of yours, you're in the right place here at Four Seasons Direct.
We offer a wide variety of styles that you can use to create the image of height, whether it be in the form of lengthening vertical lines or in segmenting the appearance of your frame.
Choosing clothing that makes artful use of vertical lines to create the impression of a longer frame is a time-proven tactic to appear taller without actually adding any height. Consider a shorter or an asymmetrical hemline to segment your appearance and allow your legs to draw out the impression of your height.
While there are plenty of other tactics out there for altering your appearance to give the impression that you desire, you know your build best and you've probably discovered some tricks of your own. What you should know is that right here we offer the variety in dress to be able to pull off those effects, which brings us to another tip for what to look for in a supplier of women's petite clothing.
Look for Wide Variety in Styles
Part of looking for a supplier that can set you up with a variety of styles isn't all about the need to make the most out of your natural look. Part of it has to do with the versatility that you need to be able to exhibit every day in your life.
You don't want to be limited by a retailer or some other online supplier that only offers one or two different basic strains of design or style that don't change throughout the seasons or over the years. Relying on the same looks over time can be draining and make a wardrobe feel flat.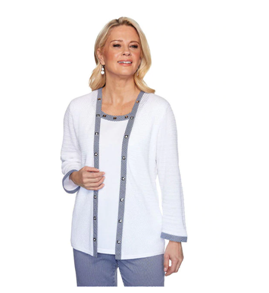 That's another thing of which we're particularly proud here at Four Seasons Direct. We don't just offer a wide variety in our brand portfolio - we offer plenty of different styles for all different occasions and demands, and those styles are changing all the time. In short, you can come to Four Seasons Direct and expect to be dazzled by new additions to our catalog whenever you stop by our site.
If you're looking for a petite sweater in a basic design that doesn't overwhelm the sense, you can find it right here at Four Season's Direct. What could be more versatile than a design like a monochromatic shawl or sweater, especially in a neutral color, that you can match to almost any other outfit? Not too much, we feel.
What about printed tops that add some color to your sense of appeal? We offer plenty of them from too many designers to list. You might find you're in the mood for something with a floral print with plenty of warm pinks and earth tones to liven up your look. You might be looking for something more linear and geometric with the same palette. Guess what - it doesn't matter which you want most, because you can find examples of both right here on our site and add them both to your closet.
The best part is that we're not just talking about these designs as hypotheticals. Simply shop our site by 'petite' size and you will find plenty of examples of these designs that you can mix and match to make just about any look you want.
Find A Supplier Offering a Colorful Portfolio of Brands
Spoiler alert: all you need to do to apply this next tip is to shop here on our website. That being said, we'll get right into it.
Another thing you'll want to keep in mind is to find a supplier for petite women's clothing that offers plenty of brand and designer variety in their catalog. There's a reason for this besides the fact that you might simply have brand preferences, but we'll get to that in a moment.
One of the reasons for looking for a supplier that can offer you a lot of variety in terms of brands in addition to styles is the fact that if you find a designer whose pieces you appreciate, you can expect a certain degree of consistency from that brand. It can help streamline your shopping endeavors and also give you a sense of what you like and what you don't like, especially in a market wherein it can seem very tough to find petite clothing.
If you find that you love the way that Alfred Dunner tops fit you, you might want to investigate more styles by Alfred Dunner after being exposed to them. If you become a fan of the cut or lay of the fanciful, intricate designs of Sportelle/On Que tops, you can expect that designer to provide you with similar designs and fits going forward. Maybe you'll even find yourself growing partial to Alia USA's styles of pants - the point is that you can develop a relationship with a brand or a designer that can be hard to replace.
In order to do that in the first place, you need to find a supplier that can bring you a wide, consistent range of styles in designers. See our spoiler alert above - you happen to be in the right place. Right here on our site, you can shop through our selection of the designers we've already mentioned as well as Jag Jeans, Ruby RD, Southern Lady, Cathy Daniels and so much more.
You'll Need To Find Looks for Every Season!
We may have inadvertently touched on this by impressing the necessity that you'll need to find a supplier offering a variety in brands and styles, but we'll be more explicit. It doesn't do you much good if you can only find women's petite clothing made for summer wear. By the same token, an outlet selling only petite coats and outerwear won't do you too much good when the spring breaks.
Instead, what you'll want to do is find a place like Four Seasons Direct where you can shop for, well, all four seasons, and you'll have to forgive us for that pun.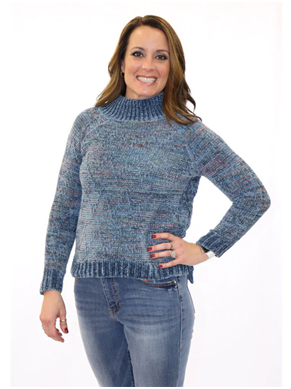 If you're looking for light-colored, pastel tops that will keep you comfortable in the warmer weather while also fitting you perfectly, just take a look through our collection. Maybe the case is you're looking for a floral printed button up top to wear around the early spring when the tulips raise their heads. You can find it here. Maybe you're looking for a summery top with blues and golds in a vertical configuration that makes you look taller in beachy style - we have that too.
When the weather turns you'll want to be comfortable while still looking your best, and we understand that too. Whether it's a fall chill in the air that drives your need for outerwear or it's the middle of winter, we offer cute sweaters, jackets and cardigans that will have you comfortable and feeling stylish too.
Looking for a vest or a pullover sweater to stave off the chills of early fall? Something to cozy up in during the winter on a wet, blustery day? You're in just the right place. Not only do we offer an unparalleled catalog of women's petite clothing in design and style - we offer looks for every season, and that's another thing you'll want to look for when you're shopping for petite clothing.
Don't Forget the Accessories
While you're shopping for women's petite clothing, don't forget to find a supplier that can set you up with the accessories you need to complete the outfit. Sometimes those accessories will be tied to size, and sometimes they won't, so it's nice to find a supplier that can set you up with the accessories you need to pull off the look you want.
Take, for example, the need to pair shoes with an outfit. Shoes can make or break an outfit, and are something you'll really want to focus on especially if you're dressing to look taller and not just for style. Right here at Four Seasons Direct you can find the shoes you need to complete your look, and we offer them in sizes down to 6, so you can shop with confidence. Shoes are, in many ways, the very foundation of an outfit, so matching them expertly is important to pulling off your ideal image. Oh, and since we considered the importance of selection earlier, remember that you can shop our catalog of shoes by color, and we offer no shortage of options.
While shoes are an integral part of any outfit, you can definitely spice things up with our other apparel and accessories. Scarves are another great way to accentuate or lengthen your frame and you can find plenty of scarves right here, from plenty of designers. You can also shop through our catalog of handbags and jewelry to put the finishing touches on your petite ensemble.
When you're shopping for women's petite clothing, you'll want to keep all this in mind. Make sure you shop at a supplier that can keep you well dressed at all times of the year, provide you with the accessories you need to complete your look, and offers you the diversity and styles and design that you'll need to dress and look your best.
Not only are we proud to offer you all of this, but when you come to our website to shop, you'll also have the advantage of being able to shop through our ever-changing product catalog. We don't just offer the most and the best petite clothing - we are committed to finding new looks and styles and updating our catalog with them. There's nothing like an inventory that gets stale, and we promise that we'll always be committed to introducing you to new styles. Take a look through our online catalog to find your next petite ensemble today, and be sure to check out our Four Seasons Direct Facebook page to keep up with our news and releases!